5 Observations About Encanto at the Intersection of Internet Culture and Marketing
February has been a good month for Disney so far. The House of Mouse's streaming platform, Disney Plus, reported a gain of 11.8 million subscribers in the final quarter of 2021. This beat their predictions. Disney projects received 23 Academy Award nominations, including three for animated musical Encanto. And the surprise breakout hit from that movie's soundtrack, "We Don't Talk About Bruno," set a record for a Disney song to top the Billboard Hot 100 chart.
TikTok Meets Encanto
Encanto debuted at a time when production houses are testing moviegoers' appetite for the in-theater experience coming out of the pandemic. Disney gave Encanto an exclusive theater run. It opened over the 2021 Thanksgiving holiday before being added to streamer Disney Plus on Christmas Eve. For a pandemic-era film, Encanto did OK at the box office. However, it didn't really take off as a pop culture phenomenon until it started streaming.
Now, I'm a parent with a kiddo in the prime Disney demographic. (We saw Encanto in theaters opening weekend.) As someone who had seen it in the theater, I noticed what felt like a slower build up to the film's popularity. It really seemed to take off – at least on social media — after the movie arrived on Disney Plus.
I'm also "guilty" of streaming the soundtrack even without my kid around and watching too many Instagram Reels and TikToks based on the movie's songs. (And maybe even making one with my kiddo.) In fact, much of our household consumption of Encanto is based on the soundtrack and associated social media content; we've only watched the movie itself two or three times, despite having a Disney Plus subscription.
As someone who also studies internet culture and marketing, I find the moment Encanto is having fascinating. The story of Encanto's success is an interesting one, as it speaks to the combined power of streaming and internet culture in today's business environment. Here are 5 observations about Encanto at the intersection of internet culture and business.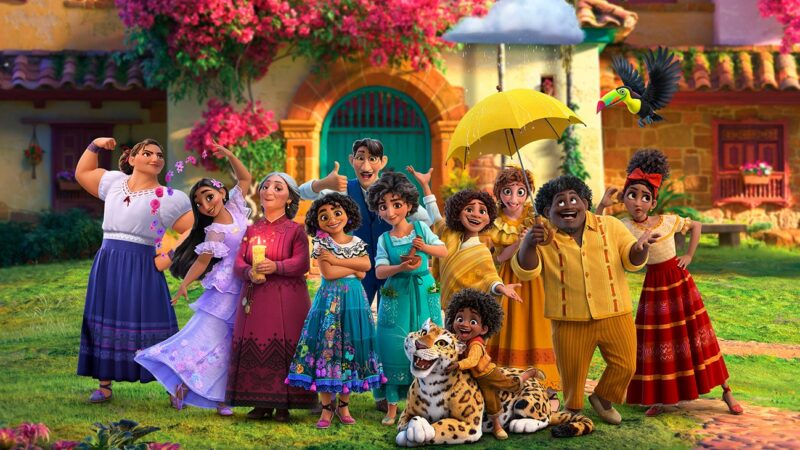 "We Don't Talk About Bruno," TikTok, and Billboard Charts
By my reckoning, Encanto is the first major animated Disney musical to debut since the advent of TikTok. I think this can't be ignored in discussions about the film's impact.
Encanto's soundtrack is performing better on the Billboard charts than most soundtracks, and certainly many Disney songs. Billboard rankings now include streams in the calculus of top hits. In recent years, there has been a correlation between trending songs on TikTok and appearances on the Billboard charts. With music discovery one of its key features, TikTok has demonstrated its ability to surface both new artists and past hits to prominence.
Encanto's breakout hit, "We Don't Talk About Bruno," made its way to the top of the charts without the benefit of radio air play. Rather, it achieved chart success on the power of its digital streams and album sales. This is especially interesting because, as others have pointed out, the song does not fit the usual balladic style of Disney chart-topping songs. Indeed, Disney submitted a different cut from the soundtrack, Dos Oruguitas, for awards consideration this year.
Fans' ability to anoint a favorite so independently of what the studio may have expected feels like something a little different than we've seen in the past. It will be interesting to see how Disney and others adjust for this going forward.
Fueling the Meme Machine
At their core TikTok – and sites with similar features like Instagram's Reels – are meme replicators. Research demonstrates that something is more likely to spark an internet meme when there is an easily imitated repetitious element. TikTok and Reel features make the replication part easy. However, the "Bruno" video memes are also based off the richness of detail in the source material.
Some TikToks recreate the animated characters' dance moves. Others point out hidden details like the Bruno character creeping in the shadows. Still more lip sync the lyrics while using a filter that allows them switch back and forth between a female and male appearance. One trend focuses on the detail of minor character Mariano's exaggerated slow walk.
This last one is an example of what I mean by an easily imitated, repetitious element. The walk is easily imitated. It can also convey a certain feeling or experience others can relate to, separate from the context of the movie. Video memes like TikToks and Reels allow content creators to latch on to the "We Don't Talk About Bruno" trend for visibility while still creating content that supports an account's own point of view, like this example.
Encourage Public Visibility
Social media marketing is extremely important in the current marketing and advertising landscape. Certainly the success of "We Don't Talk About Bruno" and other Encanto-related video memes online is overall good news for Disney.
In his work, Jonah Berger identified some qualities that make people want to talk about something. One of these elements is social proof – seeing that everyone else is doing something. Another is social currency – wanting to look "cool" (relative to one's social context) for knowing about or sharing that thing. The Encanto-related video memes serve exactly these purposes to perpetuate additional views and participation.
When someone creates a TikTok or Reel based on a pop culture moment, a desire for social currency motivates that. The apps' display of numbers of views, comments, and hashtags act as a form of social proof that reinforces the social desire. When someone creates, shares, or likes one of the memes, they are saying "hey, I get it! I am here too."
Artifacts like video memes and Billboard numbers also make a relatively private activity – streaming a movie or song at home – publicly visible. The pandemic has changed people's media consumption and buying habits to doing more at home. Companies may want to consider how to embrace these public displays of appreciation in order to encourage social proof and drive further consumption.
Embrace the Attention
Sometimes I think it can be difficult for brands to know how to respond when their content becomes a meme. There's a fine line between appearing "in" on the joke and smothering it. In my observation, the main @Disney TikTok account has somewhat ignored the trend, posting a couple of clips directly from the movie.
The @DisneyParks TikTok, however, took a different approach. At least two TikToks posted by the account directly acknowledge the "We Don't Talk About Bruno" meme. One of these acknowledged social media chatter that made a comparison between the Isabel character descending on a flower swing and the long-closed Country Bear Jamboree attraction at Walt Disney World. Another focused on a cast member at one of the parks named Bruno.
The Reel Truth
Some of the original voice actors have posted Reels of themselves lip-syncing to songs from the soundtrack. Sometimes they sing their own character and sometimes others. Coming after the video memes already achieved popularity, this strikes me as a good approach for the overall Encanto universe. Disney appears to celebrate and revel in the moment alongside fans, rather than create some forced approach to participation.
Companies will also need to be aware that for many, these social media side conversations are an important part of their interaction with the product. I mentioned I've only watched the full movie a few times, yet I'm familiar with the songs and various memes. Individual experiences will vary. Still, this trend of "official" content merely serving as a jumping-off point for a whole host of other interactions with a brand is likely to continue.
Disney is certainly no stranger to this idea. Cross-promotional efforts like the aforementioned Disney Parks and Happy Meal tie-ins come to mind. But the user-generated content aspect of these social responses is still something that requires careful navigation.
A Good Product is Still Key
Emotion and relatability are other key elements of a potential meme, and Encanto delivers these.
I doubt that Encanto would have had as much online success if audience did not like the movie. The richness of small details in the animation encourage careful viewing. Lin Manuel Miranda's catchy lyrics and the impactful storyline about generational trauma and healing also encourage repeat engagement. (As an aside, the short film that preceded the movie in theaters, Far From the Tree, had the same theme. I may have shed a tear or two watching it.) Even if someone has never lived in a magical Casita, they can probably relate to feeling pressure to be perfect or to live up to familial expectations.
Indeed, it's noteworthy that many of the folks creating Encanto content on social media are adults. Before "We Don't Talk About Bruno" took off, there was a flurry of video memes focused on "Surface Pressure." The Luisa character's song addresses fears about having to be "the strong one." With lyrics like "under the surface I feel berserk as a tightrope walker in a three-ring circus," the song resonated with moms who could relate to the pressure of carrying a family's emotional or mental load.
It can be easy to think of "going viral" or achieving TikTok success as an end goal in itself. But it won't happen – at least not in a positive way that I can think of — without a strong emotional core to build from.
Dr. Heidi Huntington
Assistant Professor of Business Communication