Tips for Your Next Vacation or Business Trip to Germany
As borders are slowly reopening to international travel after the Covid-19 pandemic, you might be itching to jump on a plane and travel again. I know I certainly am! While I have spent more than a decade studying and working in the United States, I am originally from Germany and love to return to my home country during summer breaks. While Germany is far from an exotic travel destination, I want to talk about a couple of small differences in cultural customs, which will hopefully help you on your next vacation or business trip to Germany.
How much should you tip in Germany?
When you go out to eat in Germany and tip your waiter a solid 20%, you will certainly make that person's day. However, it is not necessary or expected to tip this much. Wait staff earn a much higher hourly wage than their counterparts in the U.S. and thus don't rely as heavily on tips. Currently, the minimum wage for restaurant workers (Source in German) in Germany is €9.50 per hour, which is roughly $11.50.
So how much should you tip? Unlike in the US, there is not a specific percentage of the bill that you are expected to tip. Generally, Germans round up – if you are only buying a drink for €4.50, round up to €5. If your dinner tab is €37, round up to €40.
Another difference – instead of leaving your tip on the table when paying cash, you tell the waiter what amount you'd like to pay. So in my example from above, the waiter would tell you that your tab is €37, you'd either hand him €40 and say you don't need change or if it's a larger bill, you'd specify that you'd like to pay €40.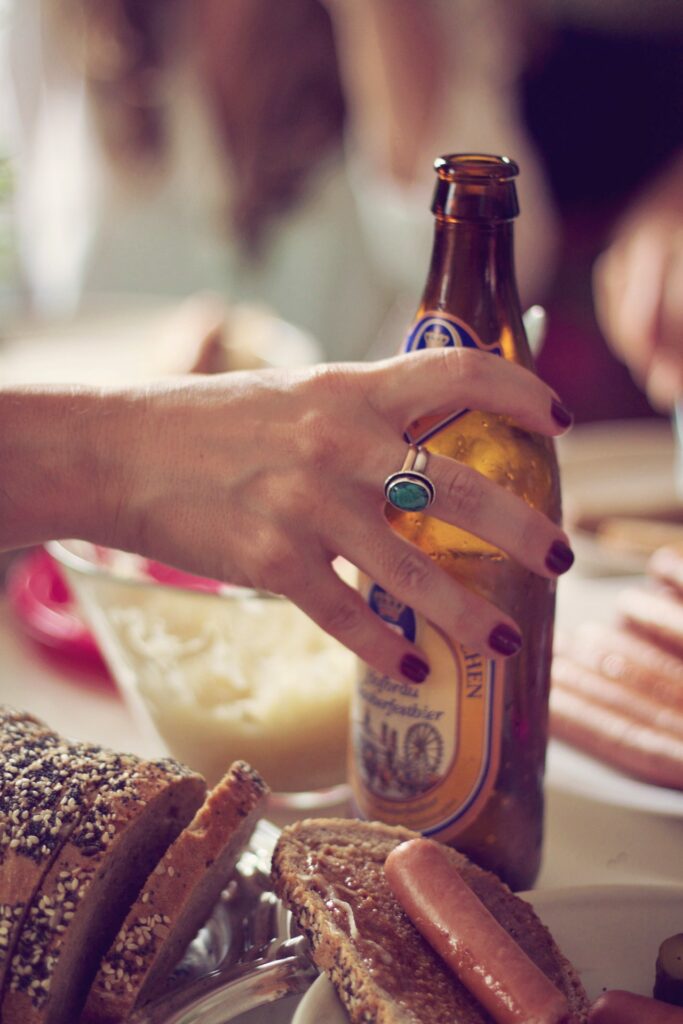 Could I get a water, please?
Another difference when it comes to eating out is that German restaurants do not provide tab water for their guests. If you'd like a water, you'll have to order a glass or bottle and it is generally not much cheaper than any other drink. Also, Germans usually drink sparkling water, so if you order a bottle of water, that's probably what you will get. If you want regular water, make sure to tell them.
Don't throw away your plastic bottles
If you buy bottled water or a soda on your trip to Germany, you will notice that 25 cents deposit will be added to each bottle. Once you are done with your drink, you might be tempted to just throw the bottle in the trash. After all, it's just 25 cents. While you are certainly allowed to do that, German bystanders will probably look at you in utter confusion, as we will carry the empty bottle around until we see the next store where we can return it. It may only be a quarter, but if you think about how many bottles of water or soda you drink in a day when you are out and about, it quickly adds up. If you really want to part with your bottle, put it next to the trash can so that somebody else can pick it up.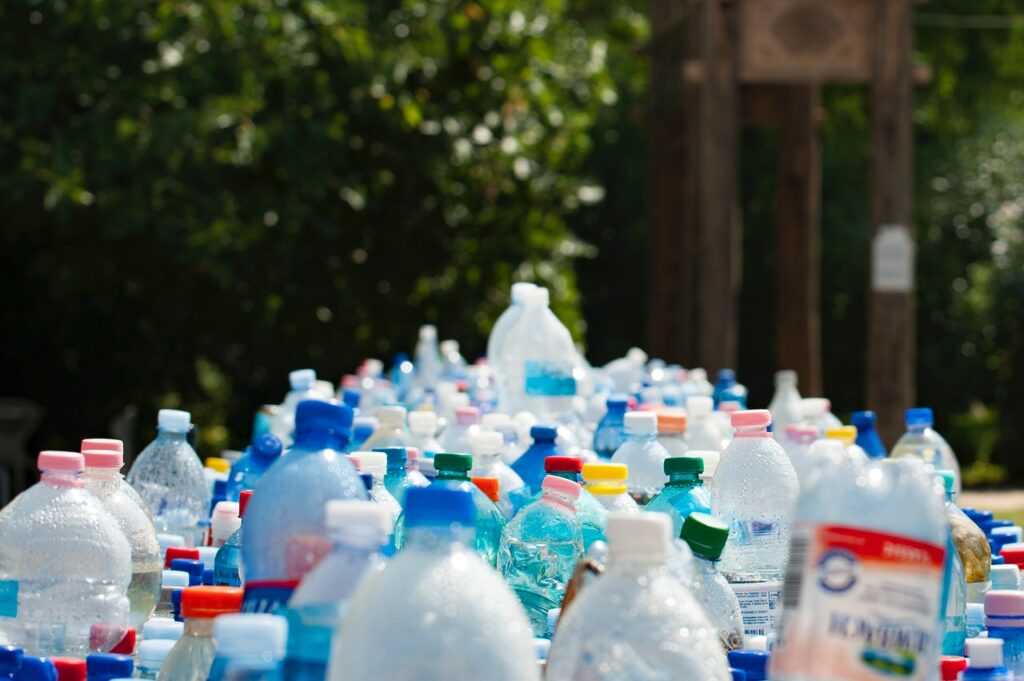 Germans are not big on small talk
At least not the American kind of small talk. Simple questions like "How are you doing?"or "How is the family?" might lead to unexpected responses. See, in Germany, we generally don't like to talk about personal matters with anyone who is not a close friend, but we are also not good at exchanging pleasantries. We tend to take things quite literally, so someone asking how the family is can be quite stressful for us if grandma is in the hospital and the kids aren't doing their homework. Do we just not answer? Reply honestly that things aren't great?
So, during a break in your business meeting, what should you talk about? Favorite small talk topics in Germany are the weather, sports, traffic, gas prices or even the draftiness of the room. This video perfectly captures the nature of small talk in Germany.
Don't plan on shopping on Sundays
Another big difference that Americans will notice when they travel to Germany is that stores are not open 24/7. Except for a couple of weekends during the year, most stores are closed on Sundays and holidays. During the week, stores are open from 6 or 8 am to 8 or 10 pm, depending on the state. On Sundays, only travel essentials like gas or train stations are open, as are bakeries and restaurants. While I always have to remind myself to plan ahead and not put shopping off until Sunday, I actually kind of like how not being able to run errands allows me to have a lazy Sunday with family.
Since we are on the topic of shopping – you will notice that you will need a 1 euro coin to unlock a shopping cart. This is to incentivize people to return their carts and not leave them around the parking lot. Also, make sure to bring your own bags as plastic bags are not complimentary! In fact, lightweight plastic bags will be banned in Germany at the beginning of next year.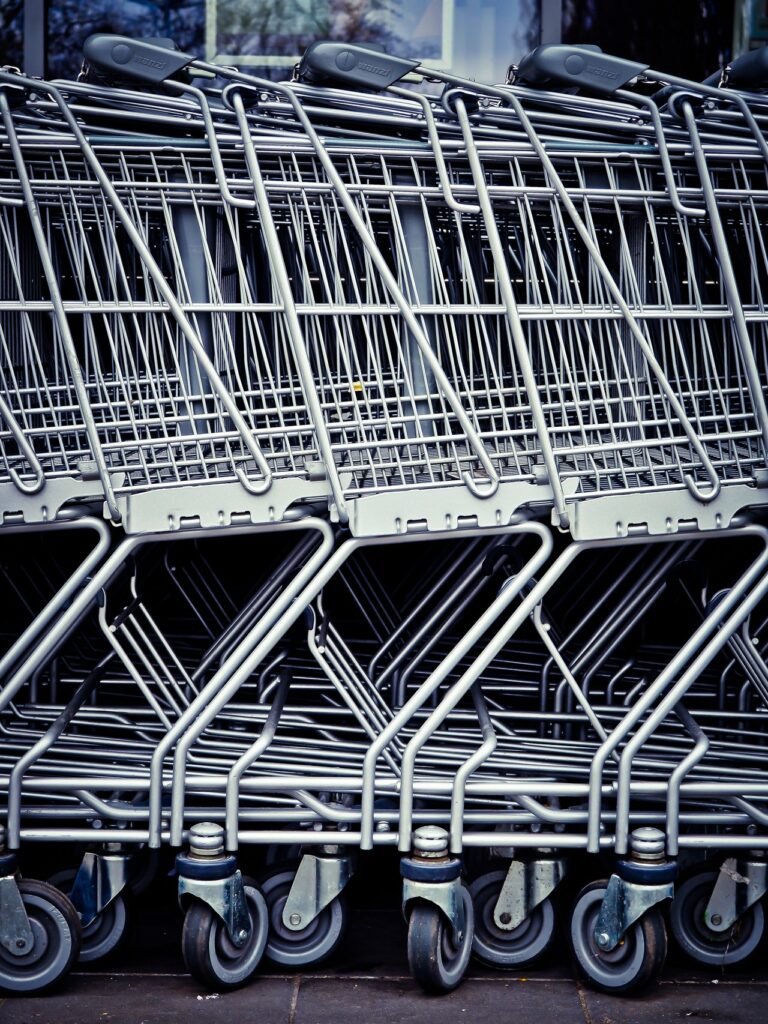 Enjoy your trip to Germany!
I hope these tips will help you navigate shopping, dining out and interacting with Germans during your next trip. If you are interested in learning more about Germany, feel free to email me at or stop by my office hours!
Anne-Christine Barthel
Assistant Professor of Economics and Decision Management