The 2020 holiday shopping season will look different for consumers and retail businesses this year. The COVID-19 pandemic has dramatically shifted consumer shopping behaviors, and retailers have taken note. Consumers are vying for digital options, such as online shopping and utilizing mobile apps for convenience and to stay safe.
Numerous retail businesses have started promotional sales earlier than usual. Black Friday and Cyber Monday now essentially anchor a "Cyber Week," with early discount sales lasting a full week – from the Monday of Thanksgiving week, through Black Friday and the weekend, and into the following Monday, dubbed Cyber Monday. For example, Amazon (AMZN), Walmart (WMT), Target (TGT), and Best Buy (BBY) are a few retailers that have started the Black Friday and Cyber Monday sales in mid-October. The early start attracted consumers looking to beat the Black Friday rush and to ensure product availability. According to Accenture's Holiday Shopping Survey, 30 percent of consumers planned to start holiday shopping earlier for fear of not getting what they want if they waited until after Thanksgiving.
This year, with the COVID-19 pandemic, it is safe to say that Cyber Week has turned into Cyber Month and especially Cyber December. More and more retailers issued discounts on goods and services beginning Nov. 1. Retailers are navigating through the uncharted waters—and the trend to offer early discounts trends might be a lasting byproduct of the COVID-19 pandemic that signals retailers' willingness to accommodate the increasing number of consumers who prefer to shop online, buy online, and pick up in-store (BOPIS) or at the curbside.
Pre-Pandemic Shopping Behavior
Before March 2020, BOPIS and curbside pickup were more popular with grocery shopping and restaurants, but after March, more and more retailers have started to offer multi-channel services, and many consumers have embraced online shopping because of the COVID-19 threat. This year, retail experts are crediting the pandemic for potential record-setting sales for retail businesses in the U.S. In an interview with Squawk Alley, UBS retail analyst Michael Lasser stated that an increase in BOPIS strategies will be advantageous for traditional retailers and will ultimately increase retail companies' sales.
According to Adobe Analytics, both smaller retailers with 10 to 50 million in annual online revenue and large retailers with $1 billion in annual online revenue are expected to see at least an 80 percent increase in sales in November and December. The year's deepest discounts for online shopping and affordable and free shipping options were made available by retailers on Cyber Monday as businesses employed a variety of marketing and promotion strategies to boost revenues.      


Source: Adobe Analytics
In 2019, Cyber Monday sales hit $9.4 billion in the U.S., setting a new record and edging Black Friday sales by $2 billion. In 2020, the signature online shopping event is projected to be the biggest online shopping day of the year, and online retail sales are expected to ascend to new heights. Cyber Monday sales were expected to reach $12.7 billion and Black Friday expects to rake in $10.3 billion.
COVID-19 Captapults Online Shopping Behavior
Has COVID-19 changed the holiday shopping season forever? Deloitte recently conducted a survey and found that 55 percent of Generation Z and Millennials plan to shop in-store during the pandemic. However, many consumers are opting for more contactless options to get their shopping done. Several retail stores with online and mobile shopping platform options have seen significant success during the pandemic. For example, Best Buy CEO Corie Barry and her management team are convinced that the pandemic has forever impacted retail businesses and consumer shopping behavior. Barry believes the shift to digital is here to stay, even after the pandemic threat fades. According to SensorTower's 2020 retail report, U.S. shopping app downloads reached 2.8 million on Black Friday. Brick and mortar (B&M) retailers and online retailers with mobile apps are attracting more and more consumers, and projected online sales may increase because of the multi-channel presence.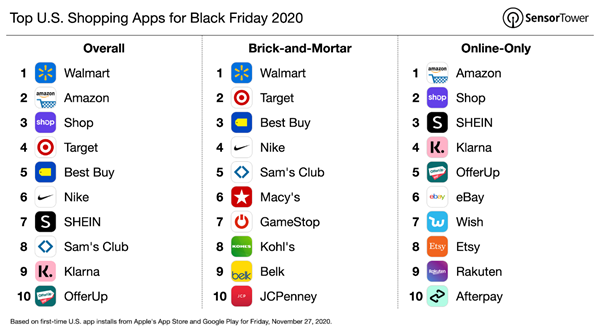 Source: SensorTower
With evolving safety guidelines, state mandates, social distancing, and other safety precautions in place, businesses have made adjustments to capitalize on the shift toward digital shopping to meet the needs of consumers. Retail stores that offer the multi-channel approach, such as BOPIS, curbside pickup, and online platforms, are the companies that are thriving throughout this pandemic – through Black Friday, Cyber Monday, Cyber Week, Cyber Month, and through the rest of 2020 – and, most likely, well into the future.