As if the war on American pocketbooks weren't bad enough, now we have a real war that is fueling the problem. Literally. You can't turn on the television right now without seeing scenes of Kyiv, Ukraine, Russian troops, and prognosticators saying we're headed to a $5 price of gas faster than an Indy car.
What got me to thinking about inflation was news that Burger King's largest franchisor is reducing the number of chicken nuggets in each order from ten down to eight. In doing so, they can keep the same price point. It's a time-honored way of dealing with inflation: Instead of giving customers sticker shock, just shrink the package or serving size.
I had noticed it at the grocer as well, where a pound of pasta at Walmart had been stuck on $1 for years. But now some of the packages have shrunk to 12 ounces. The price is the same though.
Three For $15
But when I started reading in multiple sources that the price of gas may reach $5 per gallon, I decided to dig in a little deeper. There's always more than meets the eye, you know.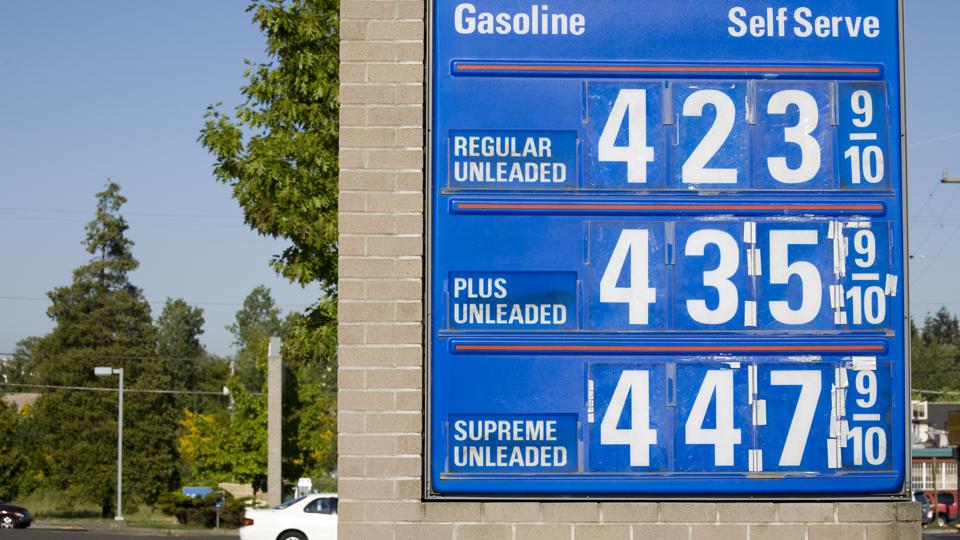 Maybe it was convenient, but my Instagram post a couple of weeks ago featured a historic Albuquerque motel that was built in 1946. So I picked that year as my reference point, and after some Googling and adjusting for inflation, I discovered some interesting facts.
The average price of gas in the US in 1946, the first full year after WWII, was $0.21 a gallon. Included in this price were $0.015 federal tax and an average $0.038 state tax. Turns out the government knew long ago that taxing motor fuel could be an impressive revenue stream and help offset the cost of all those roads they had to build. It doesn't begin to cover the total cost (income taxes, property taxes, and sales taxes cover the other half), but it helps a lot.
Price of Gas: Adjusting For Inflation
It was only after plugging those $0.21 1946 funds into the inflation calculator that I discovered it is actually $3.03 in current dollars. Hmmm. That's not nearly as far from the current $4.32 price of gas as is easy to think. I then worked backwards to learn our current price was equivalent to $0.30 in 1946. Suddenly, our trip to the pump doesn't sound all that bad. And if we do hit $5 by in the near future, that comes in to just over $0.34 in 1946 dollars.
Oh, and fasten your seat belts for a sec: The US has had 1341.8% cumulative inflation since then. Yikes!
Before you start poking holes in my gas price analysis, please know that I am fully aware of my tunnel vision here. Many things have changed since 1946, from increased exploration, drilling, and pumping, to OPEC. Furthermore, we drive greater distances today if only because of suburban sprawl. But then again, cars get much better fuel economy today. In the 1940s, cars were lucky to get 12 MPG, but today the average is 24.9 MPG.
Income and Outflow
Let's take a look at household income to see how a year's worth of fuel would fit in. In 1946, the average household earned $3,000 (which is $43,252 in current dollars); in 2022, the average household income is $87,864. A person driving 12,000 miles at 12 MPG would spend $210 on gas, or 7% of total income. In contrast, today a person driving the same 12,000 miles at 24.9 MPG would spend $2,082 on fuel, or 2.36% of income.
Of course, your mileage will vary, depending on how much you drive, your vehicle's fuel efficiency, and your household income. And I haven't even begun to consider all of the other costs of living. Some things are cheaper (like electronics). Some are more expensive (like housing). And some things we simply did not have in 1946 (like cell phones, streaming, and internet).
My point is this: Before we start complaining about inflation and the price of gas, we have to take the time to see things both contextually as well as historically. Yes, it hurts to pay a lot more this year compared to 2020. But the COVID years were an anomaly, not so much Presidential good tidings. More importantly, cheap gas is not guaranteed nor an entitlement.
Thinking Critically
As in everything, though, we have to be willing to leave no stone unturned. I bet that none of my readers were driving in 1946, and probably not even 1976. All we have are our memories. And in most cases, our memories, while they are relevant to our personal story, don't begin to tell the whole story. Or we could finally convert to the metric system and sell it for $1 a liter. People might feel better.
All of which means that as much as I wince at the pump, I don't think it's that bad. Yet. It could be much worse, like Germany, where a gallon of gas (once you convert liters and Euros) is $8.26.
The bigger takeaway for is this: Apply some critical thinking. Don't just reflexively blame people or events for your pain at the pump or checkout. The story is often far more nuanced than that, and it requires us to see a much bigger picture than our own histories can begin to explain.
Because it really is all relative.
Dr "Oh, To Pay $0.21 A Gallon Today" Gerlich