The U.S. Hispanic Chamber of Commerce (USHCC) reports that 4.7 million Hispanic-owned businesses contribute more than $800 billion each year to the U.S. Economy1. Stanford's State of Latino Entrepreneurship Initiative (SLEI) Survey of U.S. Latino Business Owners, found that over the past decade, Latino business ownership has increased by 34% with an annual revenue of $1.2 million2. The SLEI Survey of U.S. Latino Business Owners also found that the highest annual revenue growth over the past twelve months occurred in New York, California, Texas, and Florida2.
Despite having a revenue growth spurt during the past decade, the COVID-19 pandemic has led to economic downfalls and bankruptcies across small businesses in the United States, including Latino-owned businesses. The annual Biz2Credit Latino-Owned Business Study of 2020 revealed that their revenues dropped by 42% in March and April. Additionally, costs increased due to purchasing PPE and COVID-19 safety-related materials to adhere to the CDC's regulations to protect their employees' health and safety3. These increased costs has led Latino-owned businesses to spend more than they earn; and without the funding support from the federal government, these businesses are at a high risk of permanent closure3.
Miniority-Owned Business Hit Hard
The pandemic has hit Latino-owned businesses quite hard. A 2020 SLEI survey found that 86% of Latino-owned businesses experienced negative effects due to the pandemic4. Additionally, 79% of Latino-owned businesses in the 2020 SLEI survey experienced supply chain disruptions and a declining revenue4. Also, 65% indicated that they would not be able to sustain business operations beyond 6 months during the pandemic4. About 49% of Latino business owners reported making difficult decisions such as payroll reductions, layoffs, and hour reductions4.
These devastating losses can be explained by several findings found by the Megaphone of Mainstreet data report presented by SCORE. First, Hispanic-owned businesses were impacted by switching to remote work and experiencing increased COVID-19 infections and a lack of childcare5. Second, while Hispanic-owned businesses seek external avenues for funding, they are less likely to receive new loans, expanded line of credit, new investments, and support from crowdfunding in comparison to White-owned businesses5. Additionally, Hispanic-owned businesses are less likely to be granted funding from the government such as Paycheck Protection Program (PPP), Economic Injury Disaster Loans, SBA loans, and unemployment insurance benefits5.
Hispanic-owned Businesses Including Salons and Cafes Thriving
Despite these obstacles, several Hispanic-owned businesses are thriving during the pandemic. In Amarillo, Texas, NewsChannel 10, a CBS-affiliated television station, reported on the success of several small Latino-owned businesses. For instance, Vanessa Estrada, the owner of Salon Versa, indicates being more successful now during the pandemic as she increasingly serves more clients from the community6. During the pandemic, she has maintained her marketing efforts via social media including Instagram with 982 followers and Facebook with over 3,000 likes. She attributes her success to embracing innovation and receiving community support from the Panhandle6.
In Dallas, Texas, CNBC reported that a Latina business entrepreneur and owner, Luciana Gomez, opened Cafe Victoria. She reported experiencing problems with obtaining a federal loan from her bank; however, this delay did not stop her from being resilient and continuing to grow her business7. She has had to adjust to the pandemic by cutting business hours and using online ordering and delivering services7. Her strength, passion, and resilience has helped her cope with the current crisis7. These characteristics caught the attention of Shark Tank host, Mark Cuban, and he decided to do a good community deed by placing a high order of coffees and pastries for the first responders in a nearby COVID-19 testing site in the Dallas area, which spiked up her sales in the local community7.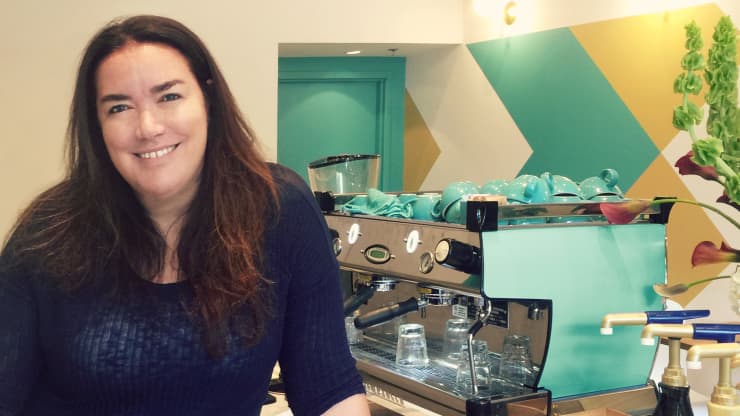 In Chicago, Andres Reyes has maintained success in his Mexican restaurant, Birrieria Ocotlan, by adjusting to the pandemic by providing PPE such as face masks, gloves, and disinfected wipes to protect his employees and customers7. His employees continue to work hard by providing food orders via the drive-thru, and he partnered with Uber Eats to deliver the food safely to his customers7. His hard work and successful adaptation strategies have paid off because his restaurant's sales have increased to match pre-COVID-19 levels7.
Hispanic-owned Businesses Embrace Change
Several Latino-owned businesses remain successful despite the pandemic due to a few reasons. First, the entrepreneurship spirit and the American Dream are deep-rooted within the Hispanic culture, which includes being able to own their own businesses to provide for their families and communities. Both U.S.-born and immigrant Hispanics share a passion for starting small businesses and being their own bosses8.
Second, some Latino businesses are initiated by immigrants and refugees from Latin America, which are often driven, resilient, and passionate about their businesses, and these characteristics increase their odds of overcoming many obstacles faced in the business world8. Experiencing challenges from crises pushes some Latino entrepreneurs to work even harder and to strive to cope to make their businesses survive, and if their businesses fail the first time, they are likely to start over again8.
Third, Latino small business owners are often early adopters and embrace innovation. Trying the same strategies will not make small businesses successful in the long-term; however, adapting to the changing needs of the community and trying out different innovations can help small businesses thrive during the pandemic7.
Also, Latino business owners who pursue higher education and mentorship are more likely to search and successfully apply for funding and resources to save their businesses. For instance, in efforts to share resources to Spanish-speaking, small business Latino owners, La Music has been actively sharing resources via a podcast and live radio show called "La Voz del Negocio Hispano," which provides mentorship to small businesses. Additionally, the United States Hispanic Chamber of Commerce (USHCC) is leading a #NuestrosNegocios campaign in partnership with Telemundo and Comcast via online and television networks to provide financial resources to the Latino community, nationwide. These resources have been supporting millions of Latino-owned businesses to ensure they continue to operate successfully during the COVID-19 pandemic.
Even celebrities such as Grammy Award winner Pitbull have partnered with the Global Entrepreneurship Network and Hello Alice to launch the Hispanic Small Business Center that provides $10,000 emergency grants, mentorship, and guides Latino-owned small businesses impacted by the pandemic.
Other Hispanic-owned business owners have found relief during the COVID-19 pandemic by obtaining financial support and resources from the Mexican Consulate, which focuses on maintaining external relationships with small businesses in cities across the U.S. including San Antonio, Houston, Las Vegas, and many others. Additional support has been achieved from local and state relief funding such as obtaining grants and low-cost loans to address pandemic needs from the Institute for Local Self-Reliance.
Here in the Amarillo area, Hispanic-owned businesses have received support during the pandemic from West Texas A&M's Small Business Development Center (SBDC), which includes workshops and trainings to support the success of small businesses in the Panhandle community. And, individuals from the Hispanic community who wish to advance their education in business can apply to get their undergraduate degree in General Business with an Entrepreneurship Specialization or an online MBA at the Paul and Virginia Engler College of Business at West Texas A&M University. With all of these resources in mind, Hispanic-owned businesses can continue to thrive despite facing challenges during this pandemic.
2 https://www.gsb.stanford.edu/faculty-research/publications/state-latino-entrepreneurship-2019?pid=
3 https://www.globenewswire.com/news-release/2020/10/12/2106671/0/en/Costs-Exceed-Revenue-for-Many-Latino-Owned-Businesses-Since-The-COVID-19-Pandemic-Began-According-to-Biz2Credit-s-Annual-Study.html
4 https://www.gsb.stanford.edu/faculty-research/publications/impact-covid-19-latino-owned-businesses?pid=
5 https://ritzherald.com/covid-19-impact-on-hispanic-owned-small-businesses/
6 https://www.newschannel10.com/2020/10/07/several-amarillo-hispanic-owned-small-businesses-thriving-middle-pandemc/
7 https://www.cnbc.com/2020/05/03/how-latino-entrepreneurs-are-adapting-businesses-during-coronavirus.html
8 https://www.theguardian.com/business/2020/mar/01/surge-in-latino-business-owners-is-good-news-but-masks-underlying-problems